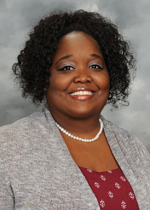 Phone: 972-617-0066, ext. 3006
Email:
Degrees and Certifications:
Alzada Benton

Intervention Counselor
Red Oak Middle School

Mrs. Benton is a licensed professional counselor and she has worked in various settings including private practice, juvenile detention centers, community based mental health agencies, education service center and schools. Mrs. Benton received her Masters of Science in Education and Allied Profession in Community Counseling from the University of Dayton and her Bachelors of Science in Psychology from Wilberforce University in Ohio.

She has been counseling children/adolescents and their families since 2001 and she has been supervising LPC-Interns since 2010 in the State of Texas as a Licensed Professional Counselor Supervisor. Mrs. Benton has experience conducting individual, group, and family therapy. She has experience in program development and philanthropy, recently assisting with a girls residential treatment facility. Mrs. Benton has been trained in Cognitive Behavioral Therapy, TheraPlay®, Girl's Circle®, Dyadic Developmental Psychotherapy, Clay Therapy , sexual abuse and trauma therapy, behavior management and attachment therapy. She specializes in assisting students and families with conflict, communication difficulties, grief, depression, and anxiety. Mrs. Benton also spends time volunteering with Junior League of Dallas and Alpha Kappa Alpha Sorority, Inc.