Upcoming Calendar of Events
Keep up with upcoming events of the ROISD Education Foundation.
Sept. 22 - North Texas Giving Day
Oct. 10 - Partnership Challenge Golf Tournament
Oct. 13 - Grant Deadline
Nov. 10 - 20th Birthday Party Celebration
Nov. 16 - Prize Parade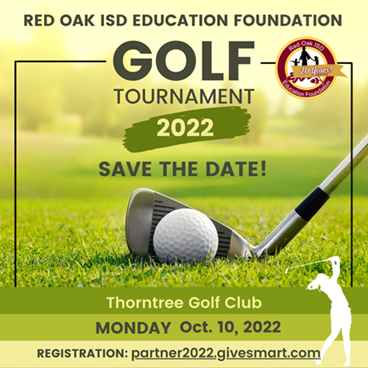 The Red Oak ISD Education Foundation PARTNERSHIP CHALLENGE GOLF TOURNAMENT will take place on Oct. 10th at Thorntree Golf Club. You are invited to join us for a day of golf. We have several levels available and will be more than happy to discuss any sponsorship level. You are welcome to go ahead and hold your spot by registering online or emailing Karen Anderson. Click here to view an information sheet with tournament details as well as sponsorships (page 2).