Fall 2021 ROHS Athletic Signing Day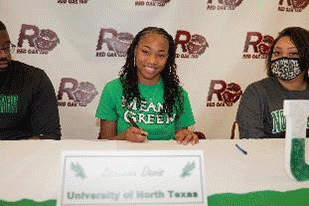 Red Oak High School and ROISD Athletics hosted college-bound student-athletes, their families, friends, and coaches for the fall signing of letters of intent on November 10. Thirteen additional student-athletes are expected to confirm their intent to various colleges at 8:30 a.m. in the Red Oak High School Gymnasium.
A letter of intent is binding for both the player and school for one academic year as long as the player is eligible to enroll at the college.
SOFTBALL
Tabitha Jackson, Henderson State University
Jazell Orozco, Jarvis Christian College
GIRLS BASKETBALL
Breanna Davis, University of North Texas
BEACH VOLLEYBALL
Ellie Davis, Loyola Marymount University
The next National Signing Day will be February 2.