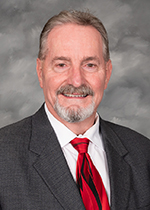 Board Member
Place 4
972-617-2941 ext. 4001
Email Mr. Knight
Re-Election Year: 2026
Johnny Knight has lived in the Red Oak Community for over 50 years. After high school, he attended Mountain View College and Cedar Valley College, studying in the field of Electronic Technology.
He furthered his education through the National Elevator Education Program where he received his certification.
Knight worked in the elevator industry for over 40 years, retiring in 2022 from Thyssen Krupp Elevator Corporation, where he was a Medical Accounts Service Operations Manager.
He and his wife Donna are both ROISD Alumni and have been married for 47 years. The couple have two children, who both graduated from ROHS.
Knight has logged many volunteer hours helping to make the district and community a better place. He has served on the Red Oak ISD School Board since 2014, is currently serving on the ROISD Safety Committee, and participates in the Mentors Care Program. Knight is a past member of the ROISD Bond Oversight Committee and the ROISD Growth Management Committee. He is a PTA Life Member, has served as a past ROMS PTA treasurer, was elected Parent of the Year at Wooden Elementary, and was involved in Red Oak PeeWee sports for many years. He has also served on the Pecal Hill City Council.
He is a long-time member and serves as an Elder at Ovilla Church of Christ.