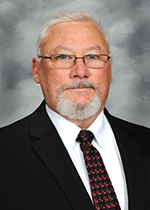 Board President
Place 3
972-617-2941 ext. 4001
Email Mr. Anderson
Re-Election Year: 2026
John Anderson was elected to the Red Oak ISD School Board in 2002 and is currently the President. He has served as Vice President and Assistant Secretary numerous times during his tenure. John has also served on the PTA Board for Eastridge Elementary, Watch D.O.G. Coordinator, and as Lady Hawk Volleyball Booster Club webmaster.
Anderson is a 1983 graduate of Red Oak High School and earned a Bachelor's Degree in Business Management from Dallas Baptist University. He also earned an Associate's Degree from Navarro College where he was a pitcher for the Bulldogs baseball team. He has spent 20+ yrs. with Applied Materials, Inc. in the semiconductor industry packaged around a short 3-year stint in the Oil and Gas Industry working for Vinson Process Controls. Before his time at Applied Materials, John served as an Electrician's Mate for 12 years in the United States Navy, including deployment for Operation Desert Shield/Desert Storm.
He and his wife, Karen, have two daughters. One is a ROHS and Texas A&M graduate and the other a senior attending Red Oak High School. Karen, a 1984 graduate of ROHS, also serves as the Executive Director for the Red Oak ISD Education Foundation. When not serving the District, John and Karen can be found at Eastridge Baptist Church where John is a Deacon and both remain active working with in the Youth Department and various church committees. They share a passion working with and supporting the kids of the Red Oak community.