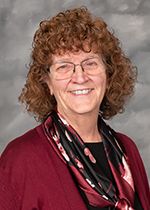 Melanie Petersen
Board Vice-President
Place 7
972-617-2941 ext. 4001
Email Mrs. Petersen
Re-Election Year: 2024
Melanie Petersen joined the Red Oak ISD School Board in 2015. She is currently serving in her second year as Board Vice President and previously served two years as Board Secretary. She is a 1976 graduate of Red Oak High School and has been married to her husband, Pete, who is a 1968 ROHS graduate, for 37 years. They have two grown sons and one grandson who attends ROMS.
She has been employed as a Technical Services Librarian for the past 20 years working for two of the largest law firms in Dallas during that time.
In her spare time, she enjoys spending time with her family and serving the community in a variety of capacities including the following: Red Oak Lions Club - Past President, Current Secretary; Red Oak High School Alumni Association - Vice President; Red Oak Citizens Police Academy Alumni Association – Member; Red Oak Senior Citizens Board – Treasurer; Red Oak Council of PTAs - Life Member; Past Red Oak Elementary PTA - Member; ROISD Education Foundation Board Member (2009-2011), and Ellis County SPCA Education Committee (2008-2009).