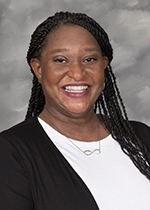 Michelle Porter
Board Member
Place 6
972-617-2941 ext. 4001
Email Michelle Porter
Re-Election Year: 2024
Michelle Porter joined the Red Oak ISD School Board in November 2020 (May elections delayed due to COVID) to fulfill an unexpired one-year term. Porter is currently serving her second term on the Red Oak ISD Community Advisory Council which meets monthly with the Superintendent. Michelle also serves on the Wooden Elementary PTA Board – Parliamentarian; Red Oak Pee Wee Football Association Board – Member; 10U Hawks – Team Mom; and Lady Hawks Volleyball Booster Club - Member. Porter is the first Black person elected to serve on the Red Oak ISD School Board.
Michelle is a graduate of the University of Mary Hardin-Baylor where she earned her Bachelor in Science in Psychology and Criminal Justice. She also earned her Occupational Therapy Assistant Associate of Applied Science degree. Michelle currently works as a Certified Occupational Therapy Assistant in skilled nursing.
In her spare time, Michelle enjoys spending time with her son, Camdyn, playing sports, and traveling. Michelle is active in the community and she and her son attend church at First Red Oak. "I'm honored to be on the Board and proud to be the first Black person elected."