Return to Headlines
Baylor Scott & White honors ROISD Teachers of the Year with an honorarium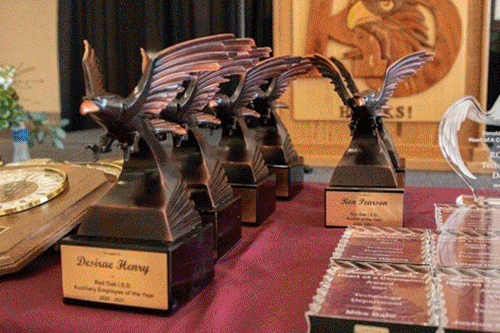 Red Oak ISD's district Teachers of the Year received a big surprise at the end of the ROISD Staff Banquet on June 2 when Baylor Scott and White Waxahachie President Will Turner came to the stage. Top elementary teacher Taylor Morris and secondary teacher Stephanie Smith had already been surprised with a district celebration tour, then the breakfast that morning, not to mention campus congratulations. But what Mr. Turner announced surprised almost everyone in the room.
Both teachers would receive a $1,000 honorarium from the hospital in appreciation of their outstanding service and dedication to the students or ROISD.
Taylor Morris, a 5th Grade Teacher at Wooden Elementary, couldn't believe it. "I cannot thank Mr. Turner and Baylor Scott & White enough for their generous donation. I was in shock when they presented us with giant checks at the award ceremony. This is the first year that this reward has been given at Red Oak ISD, and I felt an overwhelming amount of joy and recognition in the amount of hard work that was put into this year. I am currently working towards a Master's Degree in Curriculum and Instruction and have decided to take the remainder of my classes this summer, in order to graduate early. This check has helped me in doing so and I am blessed to have received their support."
Red Oak HS Content Mastery Teacher Stephanie Smith has to compose herself. She exclaimed, "I've never won anything!" She later added the sentiment of graciousness for Baylor Scott and White's generosity, and her thanks for an amazing end to a unique year.
Baylor Scott and White Waxahachie President Turner shared his thoughts on offering the honorarium. "After such a challenging year, we are proud to recognize all of the educators that have gone above and beyond for the students of Red Oak ISD," said Turner. "We are especially honored to recognize two individuals for their tremendous and extraordinary commitment this past year as the Teacher of the Year."
The ROISD Staff Banquet also included the celebration of service awards, additional district staff of the year, campus teachers of the year, and those retiring.
SERVICE AWARDS
20 YEARS
Brea Aitken – 3rd Grade Teacher at Red Oak Elementary
Cindy Belote – GT Teacher at Shields Elementary
Sarah Clement – Special Education Teacher at Red Oak Elementary
Cheryl Hawkins – Library Media Specialist at Red Oak Middle
Beth Lentz – Student Nutrition at Schupmann Elementary
Jan McCormick – Instructional Aide at Red Oak Middle
Nancy Nelson – Administrative Assistant at Schupmann Elementary
Merilee Stone – Assistant Principal at Red Oak Elementary
Donna Sutherland – Kindergarten Teacher at Shields Elementary
25 YEARS
Pam Dean – Nurse Aide at Red Oak High
Jean Manasan – Bus Driver at Transportation
Margaret Wolf – Substitute and Instructional Materials Coordinator at ESC
30 YEARS
Patricia Garcia-King – Teacher/Volleyball & Golf Coach at Red Oak High
Wendy Newcomer – Homebound Teacher, Districtwide
Marla Nichols – Content Mastery Teacher at Red Oak Middle
Melissa Wootton – Anatomy & Physiology Teacher at Red Oak High
Maggie Sibley – Special Education Teacher at Red Oak High
RETIREES
Julia Backus – 36 years; Speech Therapist at Eastridge Elementary
Mike Bahr – 34 years; Executive Director of Technology at ESC
Denise Behrmann – 20 years; Instructional Coach at Shields Elementary
Cindy Belote – 37 years; GT Teacher at Shields Elementary
Andrea Brown – 29 years; Computer Teacher at Red Oak Elementary
Kathie Garrett – 24 years; 3rd Grade Teacher at Schupmann Elementary
Melissa Hancock – 26 years; GT Teacher at Schupmann Elementary
Marcia Howard – 26 years; Computer Lab Aide at Eastridge Elementary
Jay Johnson – 25 years; Teacher, Head Baseball Coach at Red Oak High
Laura Kennedy – 23 years; PEIMS Clerk at Red Oak Elementary
Donna Knight – 34 years; Community & Family Services Coordinator at ESC
Buster Lewis – 13 years; Bus Driver at Transportation
Christine Mullins – 29 years; 7th Grade ELAR Teacher at Red Oak Middle
Jan Myers – 26 years; 5th Grade Teacher at Eastridge Elementary
Judi Peterson – 24 years; Administrative Assistant at Red Oak Middle
Larry (Rusty) Pierce – 19 years; Custodian at Support Services
Elizabeth Pollard – 21 years, Speech Therapy Assistant at Wooden Elementary
Deborah Sikes – 28 years; Fine Arts Teacher at Red Oak Elementary
Carroll Svrcek – 31 years; Student Nutrition Manager at Wooden Elementary
Nancy Toney – 40 years; Executive Director of Assessment & Accountability at ESC
Rowdy Wildman – 21 years; Content mastery Teacher at Red Oak Middle
CAMPUS TEACHERS OF THE YEAR
Annie Pelletier, 4th Grade Math Teacher at Eastridge Elementary
Dori Barrett, Kindergarten Teacher at Red Oak Elementary
Rachelle Bergman, 4th Grade Teacher at Schupmann Elementary
Kristi Pickard, 4th Grade Teacher at Shields Elementary
Taylor Morris, 5th Grade Teacher at Wooden Elementary
Dana Nabors, 8th Grade PreAP/ELAR Teacher at Red Oak Middle
Stephanie Smith, Content Mastery Teacher at Red 0ak High
DISTRICT SUPERLATIVES
Elementary Teacher of the Year | Taylor Morris, 5th Grade Teacher at Wooden Elementary
Secondary Teacher of the Year | Stephanie Smith, Content Mastery Teacher at Red 0ak High
Auxiliary Employee of the Year | Desirae Henry, Custodian at Shields Elementary
Paraprofessional of the Year | Tonya Myers, Aide at Red Oak High
Elementary Support Staff of the Year | Kelly Hartman, Library Media Specialist at Red Oak Elementary
Secondary Support Staff of the Year | Christy Helms & Maggie Ortiz, Nurses at Red Oak Middle
Rookie of the Year | Ron Pearson, Special Education Teacher at Schupmann Elementary
Donald T. Shields Heart of a Champion | ROISD Technology Department Executive Director Mike Bahr