Return to Headlines
Pre-Kindergarten Roundup - April 25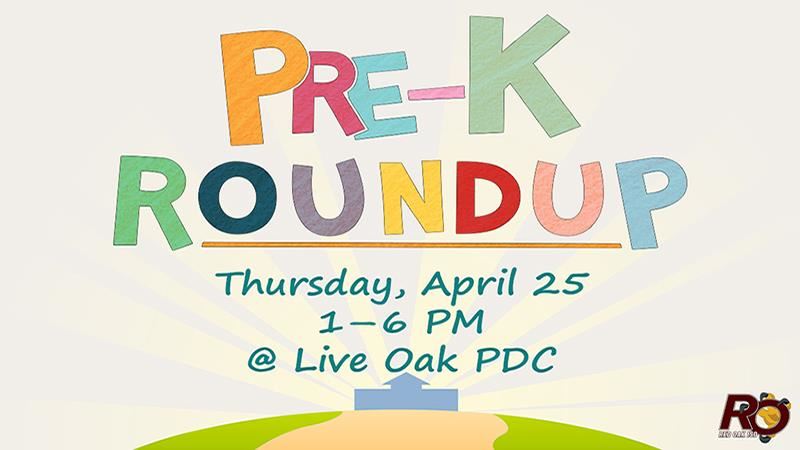 Red Oak ISD Pre-Kindergarten Roundup will be held on Thursday, April 25, 2019 from 1 - 6 PM at ROISD Live Oak Professional Development Center located at 200 Live Oak St.
Pre-Kindergarten Program
Red Oak ISD Offers Half-Day Pre-Kindergarten at all elementary campuses.
Who qualifies?
Eligibility requirements for Pre-K is set forth by the State of Texas.
This is the Criteria from the Student Attendance Accounting Handbook for PK:
Children must be four years of age on September 1 of the current school year (September 1, 2019) and must meet one of the following requirements:
be unable to speak and comprehend the English language; or
be educationally disadvantaged (eligible to participate in the National School Lunch Program [NSLP];
be homeless; or
be the child of an active duty member of the armed forces of the United States, including the state military forces or a reserved component of the armed forces, who is ordered to active duty by proper authority; or
be the child of a member of the armed forces of the United States, including the state military forces or a reserved component of the armed forces, who was injured or killed while serving on active duty; or
have ever been in the conservatorship of the Texas DFPS (foster care) following an adversary hearing.
is the child of a person eligible for the Star of Texas Award such as:

a peace officer under Section 3106.002, Government Code; or
a firefighter under Section 3106.003, Government Code; or
an emergency medical first responder under Section 3106.004, Government Code.
Where will my child attend school?
Assignment to a campus is dependent on program schedule and availability. Pre-K campus assignments may not correspond with elementary school attendance zone boundaries. Families will be notified in August of their student's campus and time.
How do I register and what do I need?
New Student Online Enrollment (NSOE) will open for all new students PK-12th grade beginning April 9th.
Online Enrollment Process
Only students who are legal residents of Red Oak ISD and between the ages of 5-21 (as of September 1st) are eligible for enrollment into ROISD.
Complete the Online New Student Registration process. Choose your option below.
Bring your documentation to Pre-K Roundup for documentation to be verified. (enrollment documentation must be brought to the roundup for review before online application will be approved)
OPTION 1: NEW ROISD FAMILY
Use this option when your family is NEW to the District and does not have a Family Access login.
Request a login account using a valid email address. You may obtain a free email account through services such as Yahoo, Google or Hotmail.
Your login and password will be sent to this email address.
Use the link in the email to log in and begin the process.
To request a login account, go to the Skyward New Student Enrollment site.
OPTION 2: EXISTING FAMILY ACCESS USER (previous student moving back to district)
Documents to Bring (also upload into online portal if able to)
Parent's Driver's License or Texas ID Card
Student's Proof of Identity
Immunization/Vaccination Record
Proof of Residency (ROISD defines current documentation as anything within the last 30 calendar days.)

Current Electric, Gas or Water Bill
Current Rental or Lease Agreement
Most recent Tax Receipt
Additional documents for other qualifiers:
Income Qualifiers (One of the following)

Current paycheck stub
Current tax return if self-employed
Current TANF or SNAP eligibility letter



Language Qualifiers

Fill out Home Language Survey (provided by school)
Language test will be administered to the child



Military Qualifiers (One of the following)

Verification of U.S. Department of Defense photo I.D.
Statement of service
Copy of death certificate
Copy of Purple Heart orders and the line of duty determination documentation
Copy of official letter from commander
Copy of a letter from US Dept. of Veteran's Affairs
Documentation that service member is MIA



Foster Care Qualifiers

Verification letter of Prekindergarten Eligibility from DFPS or 2085E and 2085FC Forms



Star of Texas Award Qualifiers

Copy of the resolution (certificate) awarded to an individual
False Information
ROISD Board Policy FD (LEGAL)
When accepting a child for enrollment, a district shall inform the parent or other person enrolling the child that presenting a false document or false records in connection with enrollment is a criminal offense under Penal Code 37.10 (Tampering with Governmental Records) and that enrolling the child under false documents makes the person liable for tuition or other costs as provided below. Education Code 25.002(d)
In addition to the penalty under Penal Code 37.10, a person who knowingly falsifies information on a form required for a student's enrollment in a district is liable to the district if the student is not eligible for enrollment, but is enrolled on the basis of false information. For the period during which the ineligible student is enrolled, the person is liable for the maximum tuition fee a district may charge [see FDA] or the amount a district has budgeted per student as maintenance and operating expense, whichever is greater. Education Code 25.001(h)
A district may include on its enrollment form notice of the legal penalties and liability for falsifying information on the form. Education Code 25.001(i)
What if I cannot attend Pre-Kindergarten Round Up?
You can register online and take your original documentation to any elementary school to complete registration.