Return to Headlines
ROISD to keep required masks; changes to quarantine procedures
The Red Oak ISD School Board approved the continuation of required masks for all students, staff, and others on campuses or district facilities for the remainder of the 2020-21 school year. The decision followed a presentation by Superintendent Brenda Sanford which covered TEA and CDC guidance, ROISD COVID dashboard data, parent and staff survey results, and other information.
The district survey strongly supports the decision as well with over 75% supporting required masks from 3,306 respondents (84% parents, 13% employees, and 3% other). The district currently has four active COVID cases across all staff and students.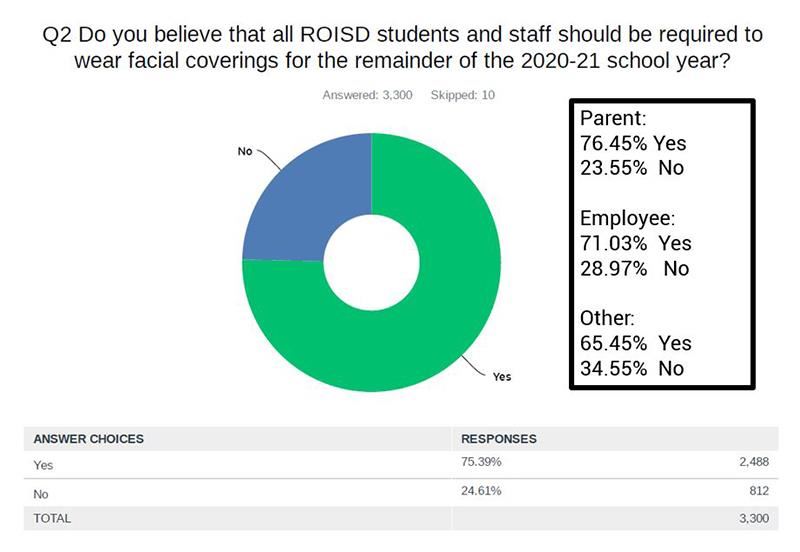 Governor Abbott's Executive Order on March 2, 2021, lifted the requirement of masks, however, left the decision of mask-related requirements in schools as a local governing board decision. With just over two months of school remaining, ROISD believes in the positive benefits of masks for the safety of our students and staff.
"Masks are a simple barrier to help prevent your respiratory droplets from reaching others. Studies show that masks reduce the spray of droplets when worn over the mouth and nose." CDC Face Covering Guidance
Additional changes from the CDC, now approved by Ellis County Health with our reduced active case numbers, will shorten the stay-at-home period for close contacts. Effective today (March 24, 2021), individuals who have been in close contact with an active case (within six feet for 15 minutes) but are not experiencing symptoms, can return to school after ten days instead of the previous 14 days. These same individuals can return after seven days if they receive a negative COVID test result after the 5th day.
CDC also updated the recommended social distancing guidelines for schools to at least three feet in classroom settings instead of six feet with universal masking.
Red Oak ISD is nearing the final grading period for the school year and is asking parents to strongly consider sending their virtual learners back to school for the last six weeks.
"We truly miss our students and know that the vast majority do better when physically in school," stated Superintendent Sanford. "With our greatly reduced COVID numbers and safety measures in place, students will benefit by being in school – both academically and social-emotionally. We are expecting to have all students back in the fall."