Return to Headlines
Red Oak ISD announces Campus and District Teachers of the Year
Red Oak ISD celebrated the 2019-20 Campus Teachers of the Year across three days the first week of May which is also celebrated as Teacher Appreciation Week and then announced the Red Oak ISD Elementary and Secondary Teacher of the Year!
This year, instead of a celebration event one evening, Superintendent Brenda Sanford along with central administrative staff, and campus administration surprised teachers at the school or their home with balloons, flowers, their award, and an awesome yard sign. For the district winners, a surprise campus gathering took place outside with staff and the winners family bringing signs, music and the Hawk mascot to celebrate the announcement.
Campus Teachers of the Year
Amberlee Velasquez: Russell P. Schupmann Elementary
Melissa Shivers: Red Oak Elementary
Jannette Myers: Eastridge Elementary
Sarah Johnson: Donald T. Shields Elementary
Claudia Villanueva: H.A. Wooden Elementary
Sara Young: Red Oak MS/6th Grade Campus
Lyssa Smith: Red Oak High School
ROISD Elementary Teacher of the Year - Claudia Villanueva
ROISD Secondary Teacher of the Year – Sara Young
"We couldn't be more proud of the two amazing educators selected to represent Red Oak ISD at the next level. They epitomize the educator profile and the 4 Talons of the Hawk every day in their interactions with students, peers, parents, and the community. We are blessed to have such passionate and caring leaders at our schools," stated Red Oak ISD Superintendent Brenda Sanford.
The District Teachers of the Year will now compete in the regional competition in hopes of advancing to the state event.
More Information about each Campus Teacher of the Year:
ROISD SECONDARY TEACHER OF THE YEAR
Sara Young
6th Grade Math/Pre-AP
Red Oak MS/6th Grade Campus
Total Years: 2 / ROISD: 2
"I have had teachers leave an impact on my heart. I work so hard each and every day to be that teacher for our kids. I constantly support my students by going to their sporting events, dance recitals, and checking on them … I was put on this earth to love kids, be a leader for them, and show them how to be a good role model. I yearn to be the best educator for our kids as I possibly can."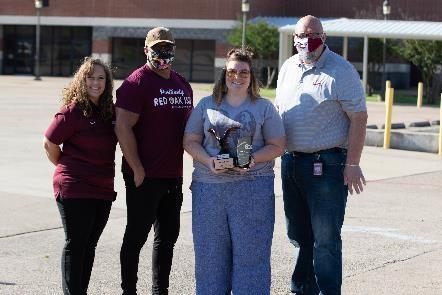 (Superintendent Brenda Sanford, Red Oak Middle School Principal Howard Gatewood, teacher Sara Young, and 6th Grade Associate Principal Rob Waller)
ROISD ELEMENTARY TEACHER OF THE YEAR
Claudia Villanueva
1st Grade Teacher
H.A. Wooden Elementary
Total Years: 20 / ROISD: 4
"I have high expectations for my students, and they are reminded of these expectations. We use data notebooks to keep track of our reading and math goals. We are always trying to be 1% better each day. I believe strongly in having parents involved in their child's education and communicate with them on a monthly basis. You will always see me at work and working hard to make sure everything gets done to the best of my ability."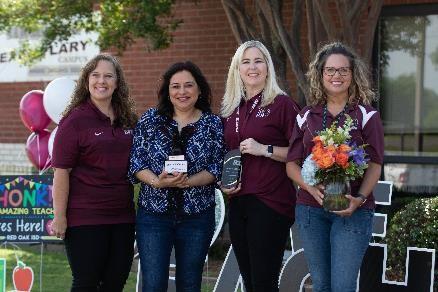 (Superintendent Brenda Sanford, teacher Claudia Villanueva, Wooden Elementary Assistant Principal Amy Weis, and Wooden Elementary Principal Rebecca Vega.)
Amberlee Velasquez
Special Education Teacher
Russell P. Schupmann Elementary
Total Years: 2 / ROISD: 2
"Because it is my belief that all students can learn, I persevere through obstacles in order to figure out what support I should provide or recommend to allow learning to occur. I enrich the school community by being an advocate and voice of special populations by modeling best practices."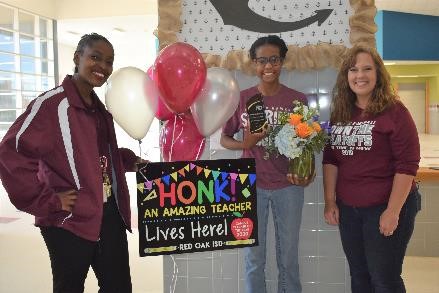 (Schupmann Elementary Principal Ashley Jackson, teacher Amberlee Velasquez, and Superintendent Brenda Sanford)
Melissa Shivers
5th Grade ELAR Teacher
Red Oak Elementary
Total Years: 6 / ROISD: 2
"I am a lifelong learner. I continue to seek opportunities to learn new research-based techniques and strategies to support me in becoming a better teacher. I am determined for my students to do the absolute best they can and are capable of doing. I want them to be world changers. In turn, I feel like I owe it to my students to do the same for them."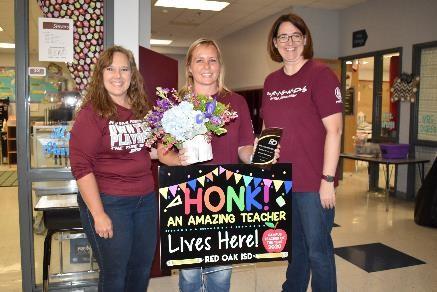 (Red Oak Elementary Principal Megan Corns, teacher Melissa Shivers, and Superintendent Brenda Sanford)
Jannette Myers
4th Grade Reading Teacher
Eastridge Elementary
Total Years: 24 / ROISD: 4
"Leadership qualities I strive to implement within and outside of the classroom are the THINK, problem solve, ask questions, don't settle, always believe you can master a skill, and have integrity. These are qualities I demonstrate for my students. I enjoy teaching! Creativity is a necessity for our classroom – bring your talents and skills. Let the learning begin!"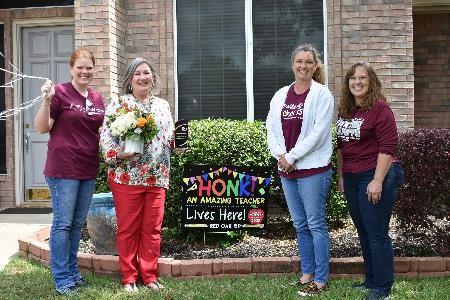 (Eastridge Elementary Counselor Angela Fitzgerald, teacher Jannette Myers, Eastridge Elementary Principal Michelle Owen, and Superintendent Brenda Sanford)
Sarah Johnson
5th Grade ELAR Teacher
Donald T. Shields Elementary
Total Years: 12 / ROISD: 10
"My goal for my students is always growth. I tell them all the time that I don't care what the number is for their score; I care that it is going up! I strive to provide an example for my students on how to interact appropriately with others in a way that enriches their relationships and allows for growth."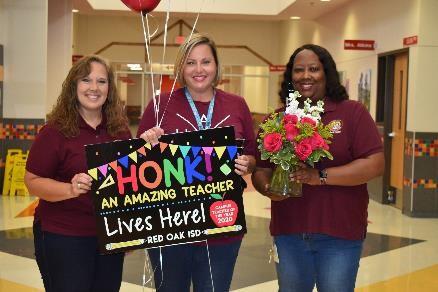 (Shields Elementary Principal Shondra Jones, teacher Sarah Johnson, and Superintendent Brenda Sanford)
Lyssa Smith
English Teacher
Red Oak High School
Total Years: 5 / ROISD: 5
"I want my kids to see learning as a challenge that will help them later in life, not just a high school course to finish. I frequently encourage and plan healthy debates and discussions where students feel safe expressing their ideas and heading ideas that may be new to them. In the end, my goal is for my kids to learn to honor all people because we're all an integral part of our society."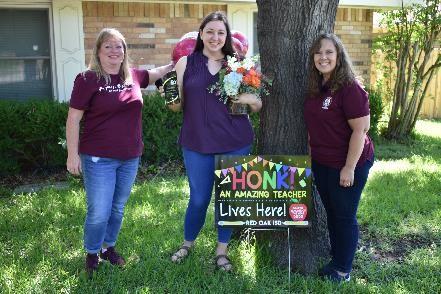 (Assistant Superintendent of Human Resources Michelle Ailara, teacher Lyssa Smith, and Superintendent Brenda Sanford)