ROISD names Lone Finalist for Superintendent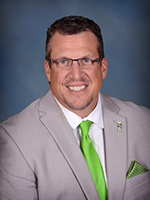 The Red Oak Independent School District Board of Trustees has named Dr. Michael Goddard, the current Assistant Superintendent of Business and Operations from Prosper ISD, as the Lone Finalist for Superintendent.
Dr. Goddard was announced as the finalist during a Regular Meeting of the Red Oak ISD Board of Trustees on Monday, April 24, 2017.
Dr. Goddard is married to Dena and they have one son, Brock, who is a Freshman at Oklahoma Baptist University. Dr. Goddard has been in his current position for 7 years. He has experience as a Classroom Teacher, Summer School Principal, Dean of Students, Associate Principal, Principal, and Assistant Superintendent.
He has a Bachelor's Degree in Communications from Stephen F. Austin State University and a Master's Degree of Education from the University of North Texas. He received his Doctor's Degree of Education in Higher Education in 2004 from the University of North Texas.
By state law, the District must wait 21 days before offering him a contract.
Henry Lozano, Red Oak ISD Board President, said "I would like to thank the Red Oak ISD Board of Trustees for their hard work and dedication as we completed this process with the assistance of the search firm of Horn Educational Consulting. The input from staff and the community was sincerely appreciated. We are excited to welcome Dr. Goddard and his family to Red Oak as we start a new chapter and continue moving forward."
---
Red Oak ISD will be conducting a search during the spring semester for a new Superintendent of Schools. The Board of Trustees is seeking a leader who will keep the innovative work of Red Oak ISD moving forward. The Red Oak ISD Board of Trustees has hired Horn Educational Consulting to lead the search for the new superintendent. Horn Educational Consulting is led by Dr. John Horn, a highly respected retired superintendent from Mesquite ISD. The firm has an excellent track record in recruiting more than 90 superintendents. All applications are to be submitted to the search firm. Inquires about the process and application forms are available by emailing John Horn at: johnhorn5@icloud.com or calling at 972-965-7501.
Planning Calendar
These dates are approximate and may change to accommodate board and candidate schedules. The time frames may be compressed. Twenty-one days is required from naming lone finalist to entering contract. If process is completed earlier, new superintendent may report earlier, but not later than July 1, 2017.
12/19/16 Board establishes basic qualifications
12/20/16 Vacancy posted/recruitment begins
2/2/17 Profile development input meetings (see below)
2/16/17 Board receives profile summaries
2/28/17 Deadline for accepting applications
3/24/17 Candidate assessment completed by search consultants
4/3/17 Board selects candidates for interview
4/10-22/17 Board conducts interviews
4/29/17 Final candidate review/reference checks/site visits
5/8-10/17 Board names "lone finalist"/declares intent to enter contract
5/29-31/17 Board enters contract
7/1/17 New superintendent begins service