The Red Oak Independent School District was founded in 1912. Currently, Red Oak ISD proudly serves about 5,800 students in grades Pre-Kindergarten to 12. Red Oak ISD is prepared for growth and committed to continuing with the family atmosphere that makes us the right choice for many families. Red Oak High School (5A) is touted for the diverse opportunities that are offered to each student in both academics and extracurricular.
LOCATION
Red Oak ISD is located 20 miles from Downtown Dallas, Texas and spans across 5 municipalities in Ellis County that include Red Oak, Ovilla, Oak Leaf, Glenn Heights and Pecan Hill. Red Oak ISD is conveniently located 5 miles south of I-20 and covers 42 square miles. View the Red Oak ISD Map and Attendance Zones.
---
GRADUATE PROFILE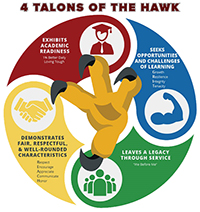 Red Oak ISD Graduate Profile
The 4 Talons of the Hawk:
* Exhibits Academic Readiness
* Seeks Opportunities and Challenges of Learning
GRIT- Growth, Resilience, Integrity, Tenacity
* Demonstrates Fair, Respectful & Well Rounded Characteristics
REACH- Respect, Encourage, Appreciate, Communicate, Honor
* Leave a Legacy Through Service
---
CORE BELIEFS
We believe that:
each student is equally important.

every student has value.

students are responsible for their decisions and actions.

each student deserves to be loved and respected.

all students can learn.

all students have the right to a safe school environment.

parental and community involvement strengthens the school environment.
---
MISSION STATEMENT
The mission of Red Oak ISD is to create lifelong learners who are academically and socially prepared to be productive citizens by providing a safe environment with strong parental and community involvement where all children are challenged through stimulating learning experiences to meet the community goal of "Realizing Our Individual Students' Dreams."
---
OUR VISION
WE ARE a community of learners. As Educators, Staff, Parents and Board of Trustees in the RED OAK family, we embody these attributes in ourselves and desire to teach our students:
WE POSSESS the knowledge, skills, heart, and commitment to make a difference.
WE DARE to dream, work hard, and go the extra mile to make those dreams come true.
WE ASPIRE to learn—looking beyond our present classroom walls to seek knowledge and innovation.
WE REPRESENT honesty and respect in all that we do—focusing on the needs of students, families, and the community.
WE FLOURISH in an open, safe and vibrant environment—meeting challenges and seizing opportunities.
WE RECOGNIZE effort, embrace improvement, strengthen achievement, and continually pursue excellence.
Our Students' Success Is Our Success
We Are Red Oak!
---
HISTORY OF RED OAK ISD
The Red Oak Independent School District was officially established in 1912. The first school was a white-frame building at the corner of Red Oak Road and Methodist Street (current location of the ROISD Education Service Center). All students attended that school. Earliest available records show an enrollment of 245 students.
A storm in April of 1913 swept across Ellis County destroying the first school building by fire from a lightning strike. In 1913, a two and half story brick building was constructed at the same location with a gymnasium added in 1937. Ironically, both buildings were also destroyed by fire in 1963. Eventually the site housed the first elementary school in the district, Red Oak Elementary.
To learn more about the history of all our campuses, view the "History of Red Oak ISD Campuses" presentation.
---
PARDON OUR BRAGGING
Red Oak ISD Ranked Top 10% of Districts in State by K-12 Niche
Red Oak High School Ranked Top 15% of High Schools in State by K-12 Niche

Red Oak ISD Ranked in Top 100 Places to Teach in Texas by K-12 Niche
Marquee Programs at Red Oak High School

Family Atmosphere

Full-Time Gifted/Talented Programs at Elementary Schools

Project Lead the Way High School (STEM)

Associate Degree Program at ROHS

Thriving Athletics & Fine Arts Programs

National Junior Reserve Officer Training Corps at ROHS

Dedicated Red Oak ISD Education Foundation

Red Oak ISD Police Department Officers on Every Campus

Childcare for Employee's Children

Free Fitness Program and Gym Access for Employees

Engaged Community and Alumni Association
---
SCHOOLS
Donald T. Shields Elementary (PreK-5th)
Eastridge Elementary (PreK-5th)
H.A. Wooden Elementary (PreK-5th)
Red Oak Elementary (PreK-5th)
Russell P. Schupmann Elementary (PreK-5th)
Red Oak Middle School (6-8th)
Red Oak High School, 5A (9-12th)
---
DEMOGRAPHICS OF RED OAK ISD




(

APPROXIMATELY 5,800 STUDENTS

)
Caucasian 37.8%

Hispanic 35.9%

African American 22.5%

American Indian/Alaskan 0.6%

Asian 0.8%

Hawaiian/Pacific Island 0.1%

Two or More 2.3%
*Percentages based on most recent October 2017 Snapshot
---
SCHOOL SONG
Hail to thee, our Alma Mater,
Red Oak High School
In whose halls we now are learning
Hail to Red Oak High.
Lift the chorus, speed it onward,
Raise it to the sky.
Hail to thee, our Alma Mater,
Hail to Red Oak High.