Student Assessment Services is responsible for all State assessments from grades K-12.
The goals of the student assessment program in ROISD are the following:
To provide data-informed feedback to students so that they can analyze what they have learned and what they still have to learn for a particular course, grade level, or bundle of instruction.





To provide data-informed feedback to parents about the academic progress of their child in our school system.





To provided data-informed feedback to teachers about students' learning so that delivery methods can be enhanced to create more effective teaching and learning.





To provide data-informed feedback to administrators and the Curriculum/Instruction Department regarding the effectiveness of curriculum and curriculum delivery.





To ensure that all required training and best practices are communicated and followed by the district staff during State assessments.
For more information please contact:
Your campus counselor or Nancy Toney at 972-617-2941.
---
Texas Academic Performance Report
The Texas Academic Performance Reports (TAPR) combine details of district and campus academic performance with financial reports and information about staff, programs, and demographics.
TEA Website-Texas Academic Performance Report
Link to TAPR Glossary of Terms (Spanish)
---
Accountability
The Texas Education Agency (TEA) released results from the 2016 STAAR Exams showing that the Red Oak Independent School District and all campuses met state standards and earned a number of Distinctions for superior performance in tested areas.
TEA Website-Accountability Rating System
Explanation of each Performance Rating
Link to Overview of Accountability System (Spanish)
---
School Report Cards
The 2015-2016 School Report Card is now available on the Texas Education Agency website at the link below. The school report card (SRC) combines accountability ratings, data from the Texas Academic Performance Reports (TAPR), and financial information to give a broad view of campus performance. Available for each campus in Texas, the SRC is intended specifically to inform parents and guardians about a school's individual characteristics and its academic performance.
TEA Website-School Report Cards
A glossary of terms used in the school report cards can be found at the link below:
Link to Glossary of Terms (Spanish)
---
STAAR Results
STAAR test scores for students in Grades 3-8 are available now.
To access the information, please log into your Skyward Family Access Account, using the button on this site. If you need help with your login or password, please contact your campus.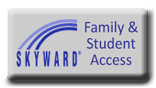 At this time, there are no paper reports to hand out.
Thank you for all you do to prepare your children for success!
---
OPTIONAL ACCESS TO STAAR RESULTS
ACCESSING STUDENT STAAR SCORES IN THE TEXAS ASSESSMENT STUDENT DATA PORTAL
Go to the TEXAS ASSESSMENT MANAGEMENT SYSTEM website

Click on Log In to Student Portal

Click OK in the pop-up box

Y

ou will then be redirected to the Texas Assessment Data Portal.
If you know your student's Unique Access Code, enter it, along with the student's Date of Birth, then click GO.

If you do NOT know your student's Access Code, click on the Lookup Access Code link.

Enter the Student's First Name, PEIMS ID (either the Social Security Number or the State ID Number), and Date of Birth. Then click GO.

The student's Access Code will automatically populate. Click GO again.
Once you've successfully entered the Unique Access Code and Date of Birth, the student's test history will be displayed on the screen. Click on any test name to view its details.
To obtain an electronic copy of the 2017 STAAR Report Card, click the Download PDFs button in the upper-right corner.
Click on the test administration to view the STAAR Report Card.
The system will generate a PDF file suitable for download / printing.
NOTE: STAAR Report Cards for Spring 2017 EOC are available through the Portal as of June 12, 2017. STAAR Report Cards for Spring 2017 Grades 3-8 will be available through the Portal on June 30, 2017. For Confidential Student Reports from STAAR administrations prior to Spring 2017, contact the school at which the student tested.
---
EOC Results
Individual results for students who took the 2017 Spring EOC tests have been released by the state. You may access your student's scores by logging into your Skyward Family Access account.
---
TEA Parental Portal to Access Student's STAAR Scores
For help to locate and access the TEA website to view your child's STAAR results, download the TEA Parental Portal Presentation.